The Borough of Netcong would like to inform / remind all residents of the following:
– § 225-10 of the Borough code states, "Landscaping of all premises shall be properly maintained, with lawns, hedges and bushes kept trimmed and from becoming overgrown and unsightly where exposed to public view." We ask that you please be mindful of the condition of your l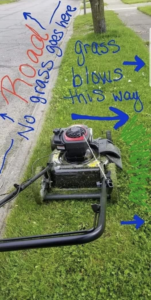 awn and general property maintenance.
– § 223-3 states, "Sweeping, raking, blowing or otherwise placing yard waste that is not containerized at the curb or along the street is prohibited." Please be sure not to allow grass clippings into the street or sidewalks, and if you do be sure to blow them back into grassy areas. (origin of photo unknown)
– Collection of grass clippings begins in April and continues through the early fall months as needed. Place grass clippings at the curb Sunday night for early Monday morning pick up. Grass clippings should be placed in a rigid container with a lid that can be picked up and dumped into a truck. Limit the weight to 50 pounds. Grass clippings in bags will not be collected.